Nothing brings out the charm of a man cave more than a man cave pool table at the centre of it all, but do you have enough room for one? Here's a complete guide on man cave pool table room dimensions, the ideal pool table measurements, and some of the best offerings available on the market.
Pool tables originated in Europe as a game played by the elites that eventually made its way to the common fold. Billiards is also commonly known as snooker, carom billiards, and pool – the most common form of billiards that is played everywhere around the globe. While most of us have usually enjoyed a game of pool at the local bar or at the club, deciding to get a pool table into your home could be just the missing piece of social furniture that your man cave needs.
Related:
Not just an ideal source of entertainment or a sport that encourages social communication, having a pool table in your man cave adds a certain aesthetic beauty to it as well. Apart from sharpening your skills with better concentration, practicing pool improves your cognitive functionality, which makes it almost therapeutic. However, adding an entire billiards table to your living space is going to take up some real estate, but how much?
How much room does a pool table need?
Deciding to pursue your dreams of bringing the bar home with a pool table at the dead center of your man cave sounds perfect. But you also have to consider the pool table room dimensions before you jump the gun and buy one directly from a store or online. Apart from having enough space for man cave pool table to fit inside the room, you also require enough space around it to make it possible for players to maneuver around it. Unless you're planning to have a customized pool table made specifically for your man cave, you don't need to perform pool table measurements at all.
There are preset pool table sizes available for players to pick from, and you can get one in regulation pool table size, depending on whether you're looking for a bar pool table (7-foot), a standard (8-foot), or a professional pool table (9-foot) for your man cave. Apart from keeping the pool table room dimensions in mind, you must also consider the cue length, which varies between 57 inches, 52 inches, 48 inches, and 42 inches. Considering the pool table sizes available, you should choose the one based on the following standard:
7 feet pool tables (39 inch by 78 inch) need at least an area of 13 feet and 3 inch by 16 feet and 6 inch.
8 feet pool tables (44 inch by 88 inch) need at least an area of 13 feet and 8 inch by 17 feet and 4 inch.
9 feet pool tables (50 inch by 100 inch) need at least an area of 14 feet and 2 inch by 18 feet and 4 inch.
Once you've figured out the pool table room dimensions and the regulation pool table size that would fit in it, you're all set to find the right fit for your man cave. Moreover, there are also modern interpretations of mini pool table sizes that are made for homes when there isn't enough space for pool table to traditionally fit.
Best Man Cave Pool Table – Buying Guide
A renowned name in the world of billiards, Barrington is now making it easier for pool enthusiasts to fulfill their dreams with a pool table of their own. Maintaining the regulation pool table sizes of 96-inch and 100-inch, Barrington offers a premium package with the entire set, that includes the cues, a rack, balls, brush, and even the chalk to polish it all off.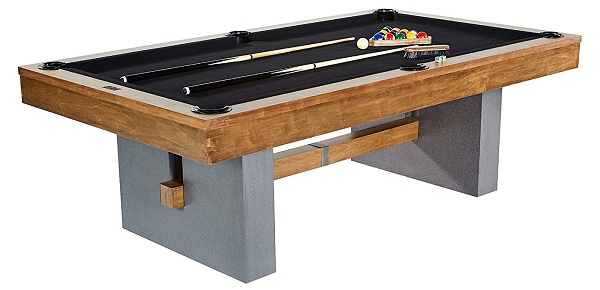 No corners have been cut in crafting the professional grade pool table with a 25mm surface with leather pockets and a rustic wooden frame all over. Barrington supports the Urban model for a contemporary modern look, the Belmont, Hatherley, and Hawthorne models for a traditional design style, the premium price is made up for with uncompromised quality.
Going against even the basic pool table sizes set as the standard, the Fat Cat Trueshot Pool Table is the perfect middle ground who don't have the space, not the budget for a full-size billiard table. This pool table is available in black color scheme with a lightweight, yet stable frame to hold up the toughest shots.
Designed with space-saving in mind, the foldable pool table is easy to set up and even easier to put away when you need to reclaim the used real estate. Included with 2 cues, the ball set, chalk, and even the triangle to set up the game, the Fat Car Trueshot pool table is built surprisingly well for the amount it costs.
Indoor recreational sports have been renewed by the Atomic brand, through the creation of sensible and high-grade offerings such as the Hampton 3-in-1 Combination Table. Built as a dining table, a man cave pool table, as well as a table tennis table, there's the added inclusion of two benches, doubling up as a storage unit for the pool and table tennis equipment.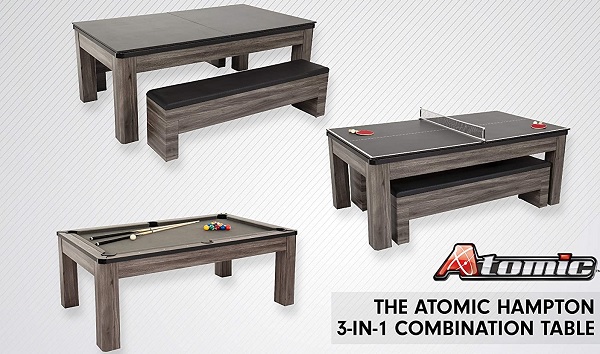 Following the rules of minimalist modern design, the wood grain finish would go perfectly with the man cave, while the multi-utility features make it a smart space-saving solution. The dining table surface can be easily reversed to become a table tennis board, or removed to unveil the high-quality slate for a game of pool.
Most man caves these days tend to incline towards a contemporary modern design with a minimalist vibe, so a traditionally heavy-built billiards table might not be the best fit. Hall of Games brings the Edgewood pool table with arched legs and hovering slate, to bring a refreshing vibe to the age-old sport.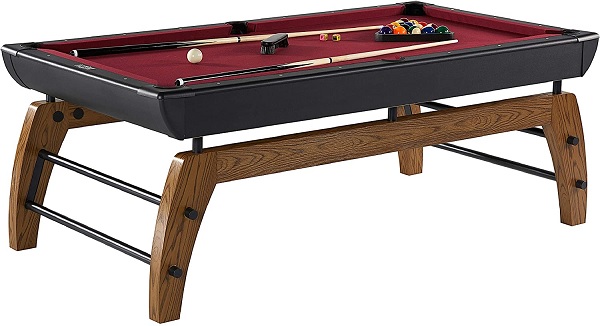 The playfield is crafted from a wool blend that is an ideal ball surface, with the good grain PVC legs provided much-needed stability and visual excellence to the table. The 84-inch compact design is small enough to leave out some room in your man cave, while still giving you a professional experience every time you hit the cues with your buds.
Even if you're confined to a closet man cave with none of the regulation man cave pool table size that fits within the space, you always have the option to try out the miniature pool. Rally and Road Tabletop Pool Table with its pool balls, two cues, chalk, and brush with the 40-inch size takes up only one-fifth of the space a regular pool table would.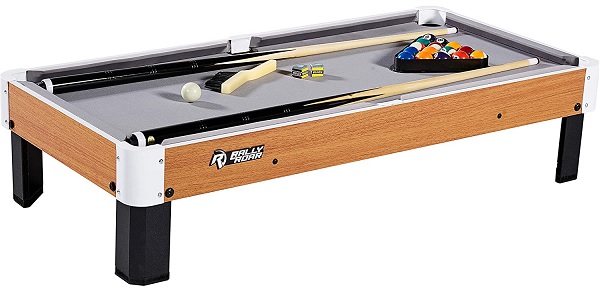 The pool table is designed for quick assembly and even quicker storage to get the game going right away, with rubberized bumpers and dampers on the feet to improve the gameplay. To keep the experience as real as it can possibly get, the balls are larger, and the cues are heavier than the traditional tabletop pool tables available in the market.
Final Words
Nothing makes a Friday night better than a get together with your buds, a couple of cold ones, and a pool table to gather around for some good old sporting action. With the pool table room dimensions in mind and considering the man cave pool table sizes we've listed above, you can pick any of the offerings above to begin the enjoyment and experience of owning your very own billiards table right now.