A man cave is a dedicated space for men to have fun, and you wouldn't have imagined working in your man cave or leave a dedicated space for a home office. The working from home is not a new concept in the west. But, the situations call for employers to mandate employees to work from home due to a global pandemic. Need to set up work from home office set up in your man cave? It starts with a good desk. We are here for you to pick essential items you will need for the most efficient man cave office setup. Many companies are providing reimbursement programs to help employees set up their home office, so let's get started to set up your ideal work from home set up in your man cave.
You Might Also Like
A Good Desk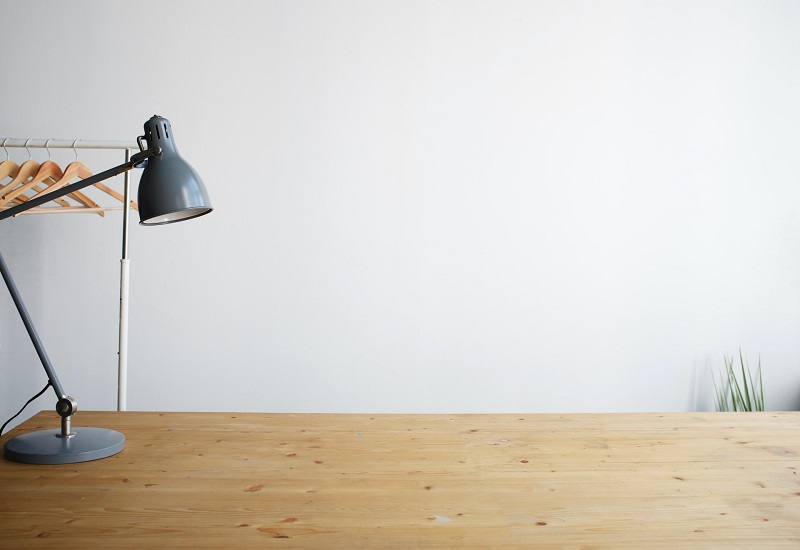 There are many creature comforts of working from home, including not working in a tight cubicle with a limited desk area. Choosing the best wooden desk is more important than the desk's styling because you need to ensure the desk size fits in your space area. After determining the rite desk size and height (usually 29 to 30 cms from the ground, you need to make sure the desk legs are sturdy and can withstand the work from home office equipment you will be using for your office work. The drawer combined with the desk is a bonus, as you will need storage space to dump your non or partial essential stuff. Suppose you are using a monitor that is more than 21 inches. In that case, we recommend having a pull-out keyboard extension installed underneath the desk for more comfortable seating and viewing angles for the monitor.
Placement of the desk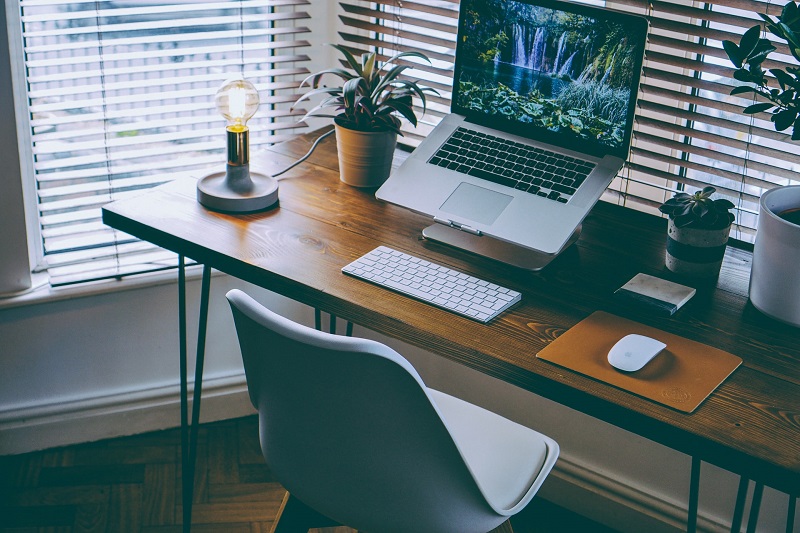 The desk placement is crucial, as it should not hinder your way and stub your toes. The two most common desk styles are an l-shaped corner desk or a standard long desk. For an l-shaped corner desk, you can place it in any four corners of your room, keeping in mind it does not come in the way of any doors. Standard desks can be placed against the wall, in front of a window, diagonally to a wall corner, or in the dead center of a room if there are no space constraints.
The lighting of the Room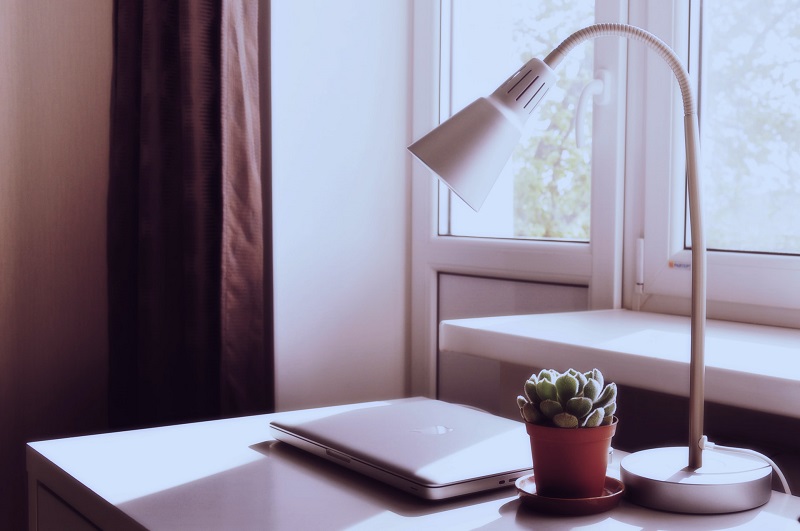 Many men prefer building a man cave office in the basement because they can't see the light of day while enjoying their buddies. Working in a basement is not a bad idea, as you will get complete privacy, but the basement should have good lighting so that your eyes do not get strained while staring at the screen for long hours. If not working in your basement, there should be good natural light, as it elevates your mood and helps your eyes not to get stressed. A set of desk lamps should suffice for your lighting needs if you are working in your basement.   
Comfortable and Ergonomic Chair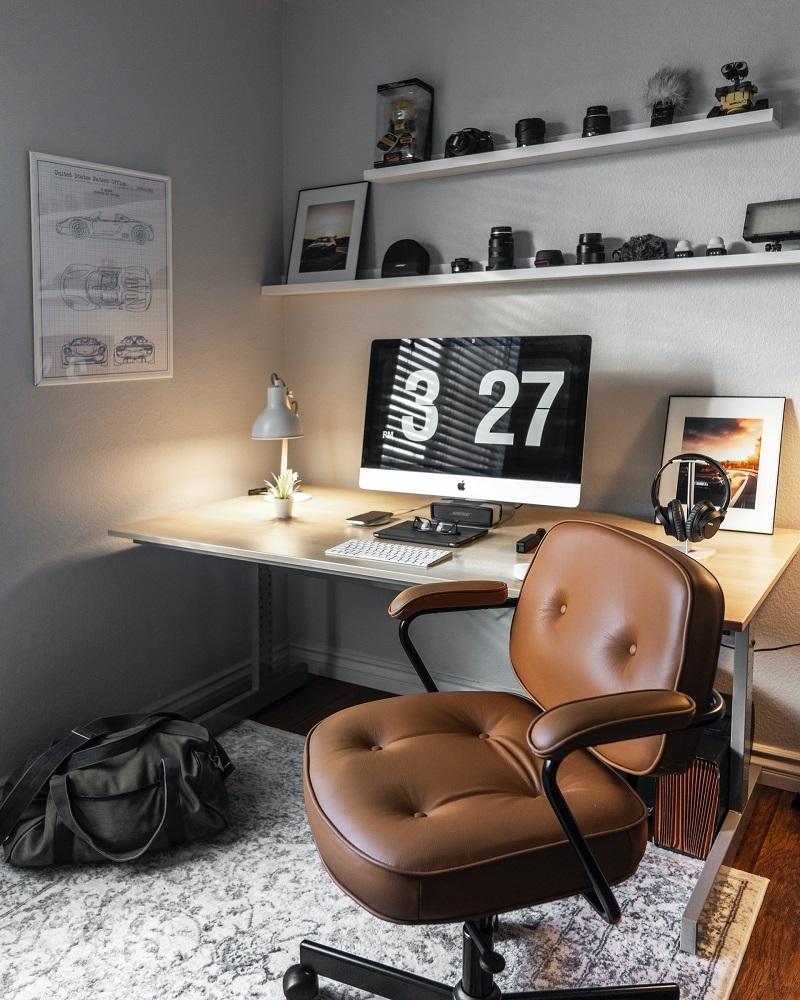 We highly recommend investing in a comfortable office chair, upgrading from the cheap ones in your office. Your rear must be comfortable at all times when working. Many good affordable and high-end office chairs have 360-degree movement, wheels, hydraulic height adjustment, armrest, good back, and headrest.
Color Scheme
The color scheme of a man cave office should be simple; keeping the color scheme minimal and straightforward will help you concentrate on your work and not distract you. You can choose from light shades of blues, whites, and greys. You can also use a dual-tone color scheme with a light shade for the top and a darker shade for the bottom in the same color palate. Need more productive space? Your walls can be a great canvas to spur your ideas on to; there are some paints and wall coatings on the market which help you convert your walls into dry erase surfaces.
Keep the desk clutter-free
A messy space can give you inspiration for new ideas, and it can also slow you down! Keeping the desk clutter-free and organized will not only help you be organized but also give you more space to keep your most-used items on the desk.
Cable management and cutting the cords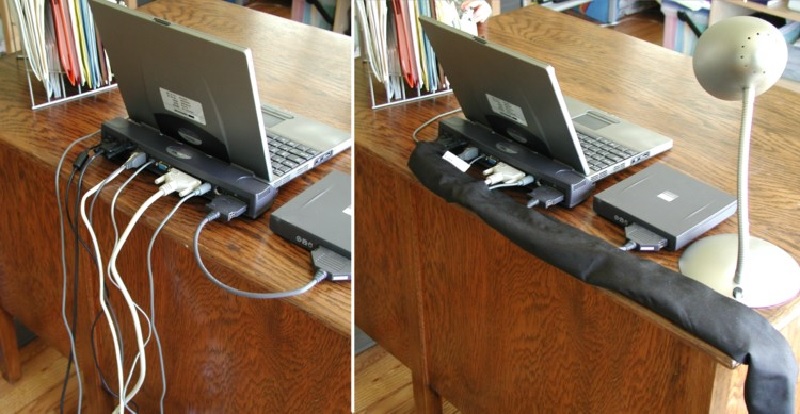 Any PC user's worst nightmare is cable management. And if you use a desktop PC, you will need to do a fine job with cable management, because cables are the worst aesthetic hindrances when it comes to a clean and minimalistic look. We recommend using cables ties and running the wires along the desk legs and use velcro cable ties. Use cable boxes to hide the power strip. For cord-cutting, we highly recommend using wireless peripherals such as wireless mouse and keyboard, Bluetooth speakers, and headphones. You can even mount your USB hubs and Wi-Fi routers to the wall with double-sided tape to get the desk clutter-free.
Wall hangings and decor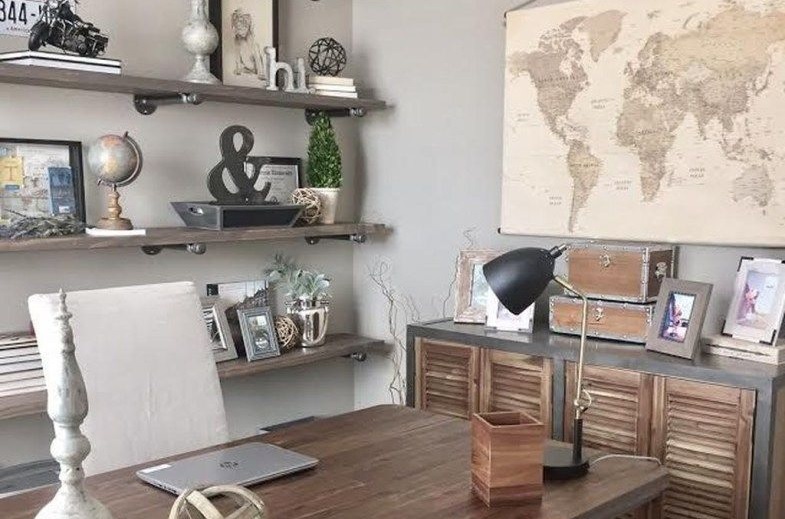 Motivational wall hangings are a good way to motivate yourself and lift your mood to work. Keeping your family pictures on the wall will also keep you in mind for who you are grinding. Small art pieces add a personality to the home office setup and add some color. Don't want to commit to real plants; fake plants are the way to go to add some green to the setup.
Ergonomic Tips for man cave office
Now that you know what you need for an efficient man cave home office setup, knowing what equipment is not enough, you should also know how to use them with the most comfort and ergonomics. Here are some ergonomics tips to follow for a comfortable home office experience.
Keep the workspace tidy and organized after you have finished working.
Although working in a man cave might be a disadvantage, seeing all the boy toys to play around, but if one is dedicated and does not have elsewhere to work, man caves can be ideal for work.
For a comfortable monitor viewing angle, you need to adjust the height so that the monitor's top is at or slightly below of eye level. The monitor should at least have a distance of 20 inches from seating.
Having some inspiring and motivational wall hangings and nick-nacks can also elevate and boost your working morals and help you strive more.
Fake plants are a good addition to a desk if you can't water real ones every day to have some green around you.
Final Words
A man cave home office might be necessary, as you have not spared a dedicated room for work and dedicated an entire room or space for entertainment. Working in a man cave also has its advantages VS working in a bedroom or living room, such as you can have your private space exclusive to you for working. We hope this article has helped you with essential home office equipment ideas for your man cave home office.