You're going to need the best beer fridges for your man cave to keep those brews chilled and ready for the party. Here's a list of the best man cave beer fridge you can find on the market right now.
After a tough day at work, or a long day with the wife and kids, all you want to do is take off your shoes, get comfy on the couch, and grab a cold one. More than a beverage to give you a smooth buzz, drinking beer has become the way of life for a bunch of us. Brewing beer is a part of human history and dates back thousands of years, so whether we drank it as cavemen or as the modern-day civilized men and women, there's a special place for beer in our lifestyle. While expecting a cold beer sitting in the fridge is something every person hopes to find at the end of the day, you're going to need the same for your man cave.
Related:
Whether you're glued to the couch and moving only to jump with joy as you enjoy game night, or getting the squad together for some gaming action, you need to have your beverages close by quench that thirst. No man cave is ever complete without a proper beer bottle fridge, since you don't want to leave your fortress every time you need to fetch a drink. Not only do beer fridges for man cave make it easy to stay hydrated and buzzed whenever needed, it also keeps those expensive brews out of the hands of those who you share the kitchen fridge with.
10 Best Man Cave Beer Fridge to Buy
It's no secret that fridges come in all shapes, forms, and designs, but you're going to need one that fits your man cave aesthetically and fulfils the purpose at the same time. Whether you have enough space too fit in an entire wine and beer fridge into the man cave, or wish to keep it less cluttered with the best mini fridge for beer than money can buy, we're here to help.
Backed by thousands of positive reviews from customers, the hOmeLabs mini fridge has become a crowd favorite. The 3.2 cubic feet beverage cooler comes with a toughened glass door so you have a clear view of your drinks, with a stainless steel frame to hold up to 120 cans of beer with ease, while the exterior steel finish adds some class to the refrigerator.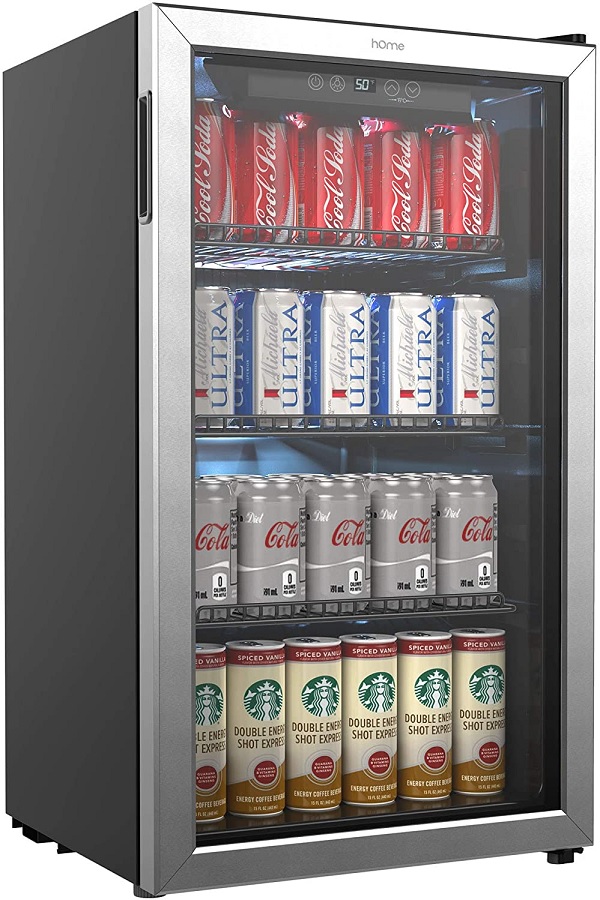 Reaching temperatures as low as 34°F with the digital display, there's an additional temperature sensor built into the hOmeLabs beer fridge for auto defrost. The chrome shelves are removable, which allows it to become a beer bottle fridge or a wine cooler if need be. There is a built-in white light that illuminates everything inside, adding an attractive element to the man cave as well.
An established brand in the world of refrigeration, NewAir brings the Freestanding beverage fridge for your man cave with a touch extra class. The matte black finish of the fridge would go well with any man cave environment, and the stylish decal on the side adds to the glamor.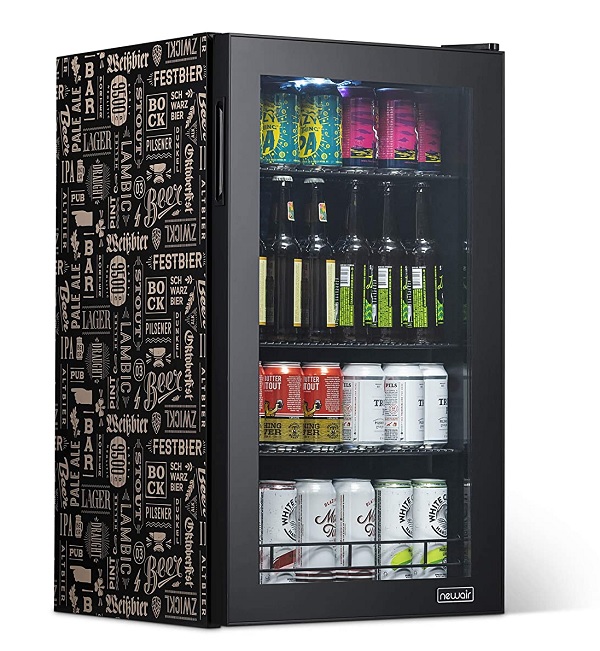 There are 7 custom thermostat settings for you to choose from, with the 37°F – 64°F temperature range. The double-paned glass door comes with illumination to view the good stuff inside, while the capacity of 126 cans ensures that you have plenty of internal storage space to work with.
We all remember those classic fridges from the day with latches on front to open the chiller and the freezer separately, and that's exactly the design Bossin has adopted. The 3.2-feet capacity refrigerator is available in Black, Red, and Mint Green colors to match the aesthetics of your man cave, and can be easily used as a wine and beer fridge separately.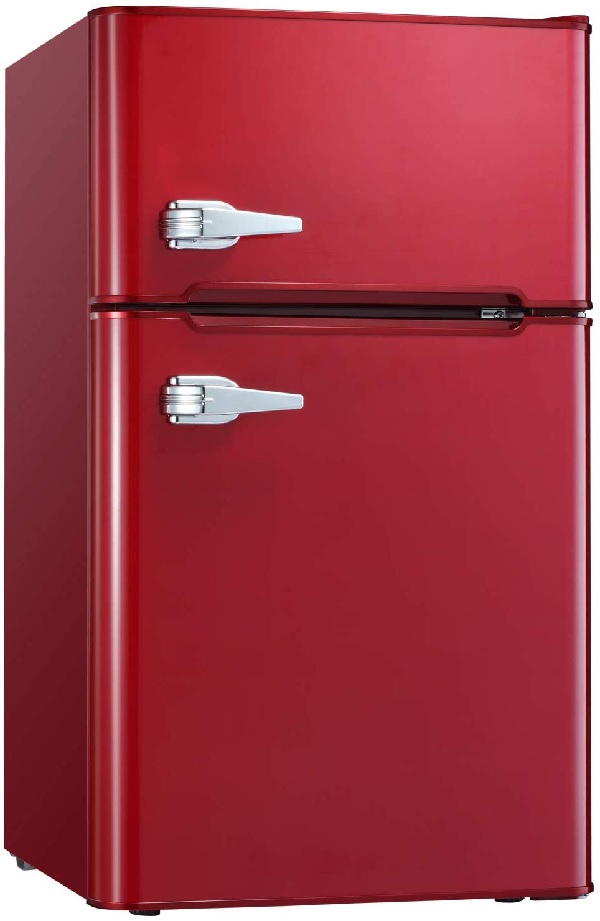 Instead of the single-door design that most mini beer fridge adopt, Bossin comes with a freezer, and the chiller with separate compartments not just inside, but on the door as well. The removable glass shelves offer durability, while the silent cooling system ensures that not just your cold brews, but food products such as frozen snacks and ice cream stay intact.
If you are more of a wine aficionado than a beer drinker, this particular fridge from Aobosi would be the right fit for your man cave. Built with durability and attractiveness in mind, the stainless-steel frame, along with sturdy wooden shelves are made more attractive with the glimmer of soft blue LED lights.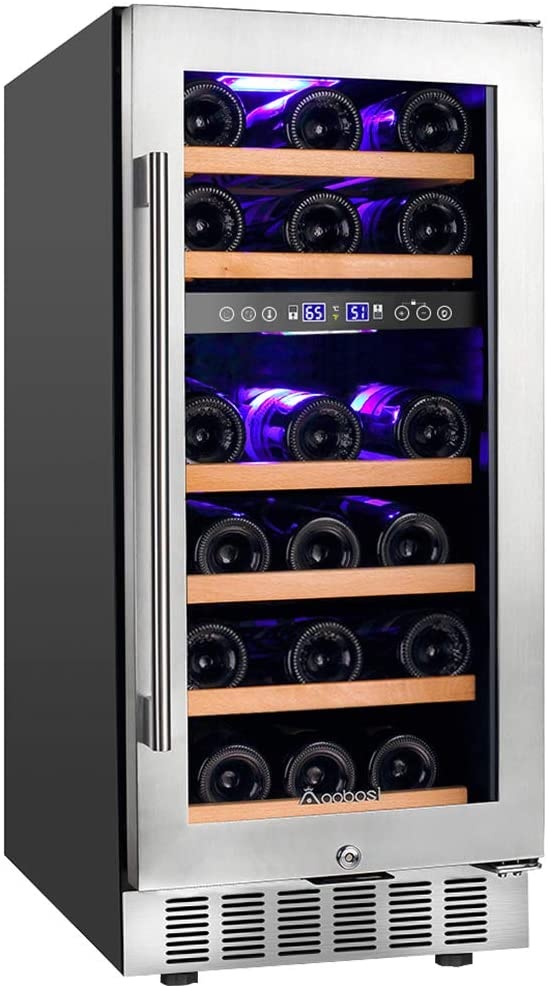 This man cave beer fridge manages to match the temperature upper zone of 41°F – 54°F, and lower zone of 54-68°F, so your wine chills perfectly for the best taste. Low vibration motor in combination with the temperature memory function will allow you to relax and enjoy the drink, while the 28-bottle capacity ensures that you always have plenty of wine.
While most man cave mini beer fridge you find online stick to a square composition, the Phiestina beverage cooler comes with a rectangular design that can hold up to 100 cans. Built-in digital display for the temperature allows you to reach anywhere between 38°F – 50°F, so you can store beer, as well as wine with ease.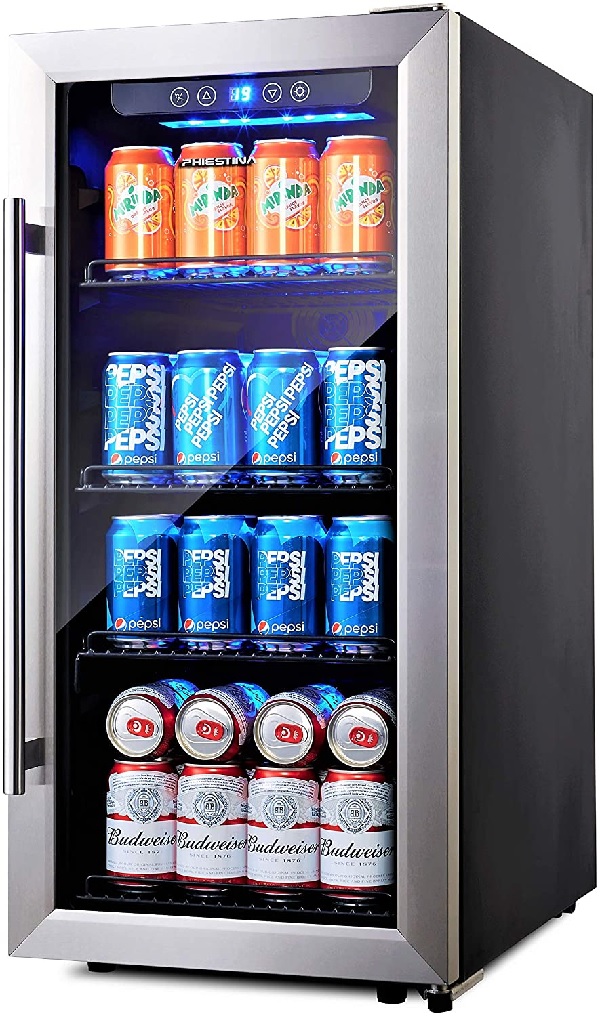 While the adjustable 4 wire shelves are illuminated with a cool blue light, silent air cooling technology gives this beer bottle fridge a "barely there" feel. Built with an industrial freestanding design, extended door handle, and a reinforced glass panel door gives the Phiestina beer and beverage cooler an elegant look.
If your idea of a man cave is not space-bound and you want a man cave fridge that can be easily moved around the backyard or in the room itself, this particular offering from NewAir is sure to entice you. The 15-inch outdoor beverage cooler is built with easy to glide casters, allowing the fridge to be easily swiveled around, while holding a temperature of as low as32°F.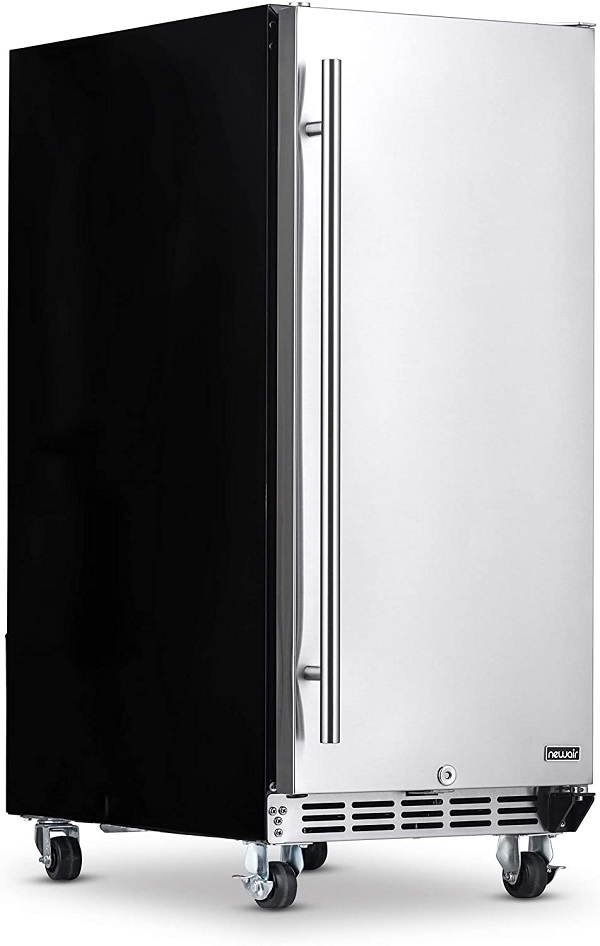 Designed to be used not just indoors, but anywhere around the house, the rust and corrosion proof 304 stainless steel is built to last. Apart from features such as removable shelves that make it easier to fit in cans and bottles too, the auto-closing metal door ensures that the contents of your fridge are always chilled and ready to drink.
When building a garage man cave, you want everything to fit the theme, so why should the man cave fridge be any different? Whynter brings the Portable Tool Box Refrigerator resembles exactly like a tower toolbox you'd have resting in the corner of your garage. While the top two drawers are indeed drawers for storage, everything below is a 1.8 cubic feet refrigerator.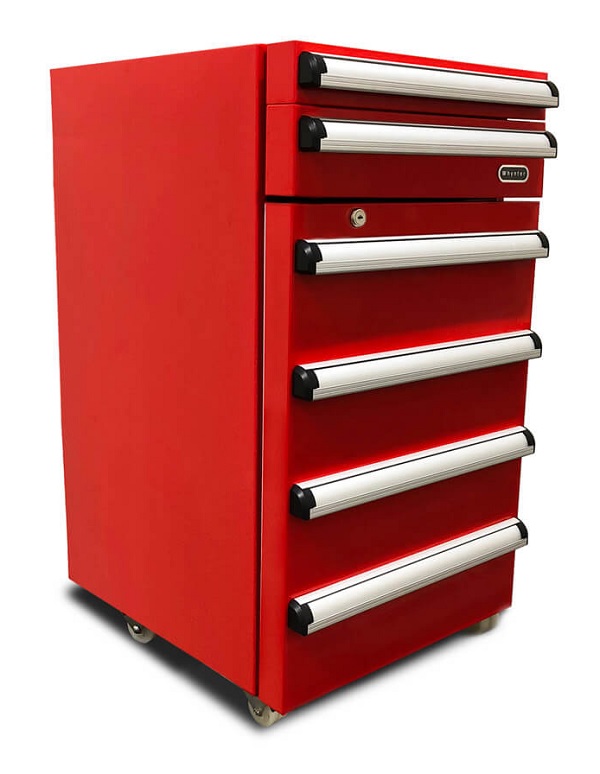 The wheel casters at the bottom offer mobility, with roller-guided drawers to keep your tools in the right place. Mechanical controls on the top of the fridge allow temperature control between 30°F – 60°F to bring you a chilled brew every time. Steel exterior with a powder coated red color add further realism to the Whynter Portable Tool Box Refrigerator.
Not all of us have the luxury to leave out enough space for a large beer fridge in the man cave, which may already take away essential real estate in the house. The Cooluli Concord Compact Mini Fridge comes into play here to keep those brews chilled and ready for consumption with its 20-liter capacity and reaches temperatures as low as 40°F.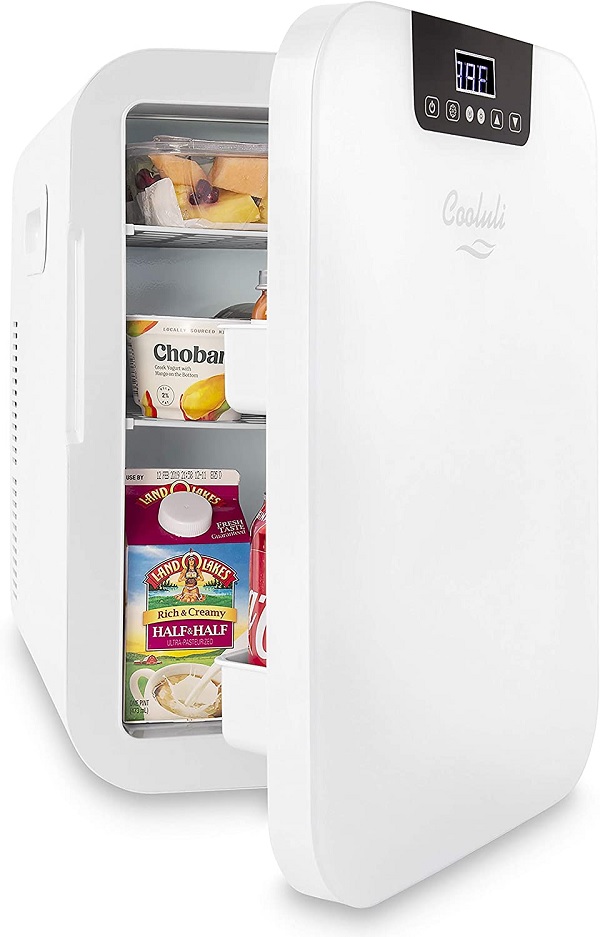 The thermo-electric cooling mechanism is essentially noise free and power saving, with a sleek design and digital temperature display upfront for easy controls. With a couple of wire shelves inside, you can store more than a dozen cans into this mini beer fridge without a hiccup, and the smart temperature controls even let you use the fridge as a warmer, reaching up to 149°F.
Too little space in your man cave to fit an entire luxury wine cooler into your fortress, the NewAir 16" Freestanding Wine Cooler offers a splendid way to keep the liquor cool and ready for the party.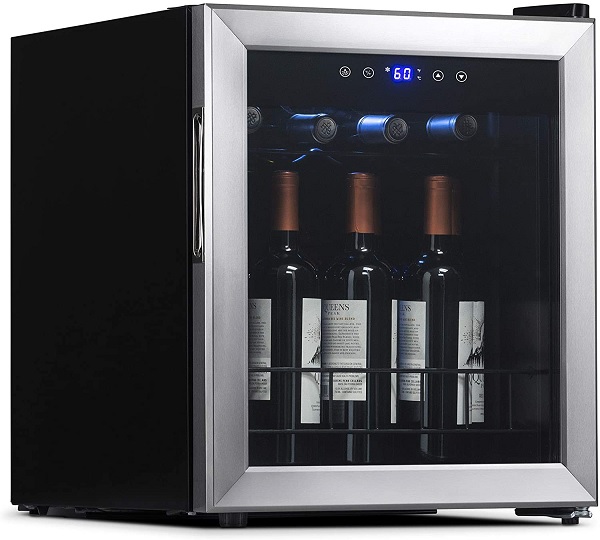 The double pane insulating glass protects the fluids from UV rays, while the adjustable/removable shelves are prepared to accommodate any bottle type and size. Stainless steel inside, and a brushed steel finish on the outside means that you'll be adding an element of class to the man cave, while the digital display ensures that the liquor is set to the right temperature.
Just as the name suggests, this retro refrigerator from Frigidaire packs up around 3.2 cubic feet of space in the man cave, adding not just an awesome beer storage to the space, but some retro funk too.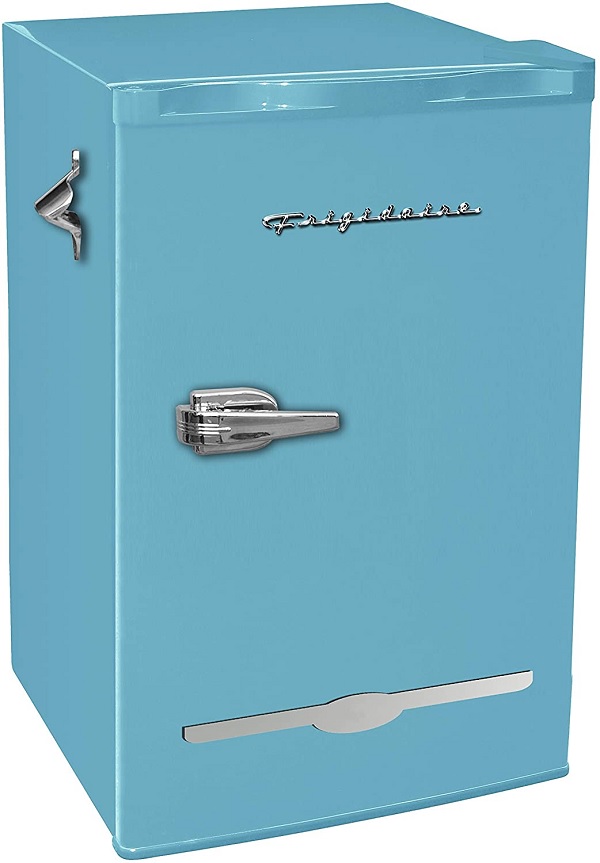 Rather than having just wired shelves inside, this particular fridge comes with two glass shelves to hold everything from beer cans and wine bottles, to an ice tray in the tiny freezer above. The door side also allows you to vertically place a bunch of beer cans, so don't be fooled by the tiny size of this mini beer fridge.
Wrapping it up
Whether you're planning to have the guys home every weekend for a round of Budweiser, or looking for a simple man cave beer fridge that can hold a couple of bottles and cans, we've taken a deep dive into all of the best wine and beer fridge choices there are out there. Picking a beer bottle fridge entirely depends on the space you have available in the man cave, and how well its design matches the aesthetics you already have in place. Factors such as temperature control, noise, and energy consumption should also be some of the secondary factors to consider when picking up the right beer fridge for your man cave.