Don't underestimate a nice clock! An interesting and cool wall clock can not just be the timekeeping device of the living space, but spruce up the man cave too. Here are a few reasons to why your man cave deserves a stylish wall clock and a list of offerings you could pick from our buying guide.
The entire idea behind dedicating a space in the home to the men by building a man cave is surrounded around the eternal debate that "boys will be boys". Whether you need some much-needed peace and quiet from the family, or your very own sports club to grab a few cold ones with the guys at home, a man cave is quickly becoming a necessity, rather than an accessory. A man cave was once just a reference in the popular relationship novel "Men Are From Mars, Women Are From Venus", but today is becoming a prominent part of home interior design.
Depending on where you're building your man cave (attic, basement, garage, backyard, or even a bedroom), the décor you choose will vary. More importantly, your personal interests such as gaming, being a die-hard sports fan, or being a grease monkey will dictate the décor of your man cave. However, there are a few elements that are a must have when setting up your man cave, which includes a stunning wall clock. More than just offering you the time, the right wall clock not only brings together the entire theme of the man cave, it also makes a solid first impression on all the visitors that you choose to allow into your private space.
Related:
10 Wall clocks for your man cave
Building a theme-oriented, stylish man cave to make all your dreams come true, and then ending it all with a mediocre and standard wall clock can be a real mood killer. On your quest to find the perfect timepiece for the man cave, here's a list of our personal favorites that are sure to add some extra style quotient to the man cave.
Garage Clock for Man Cave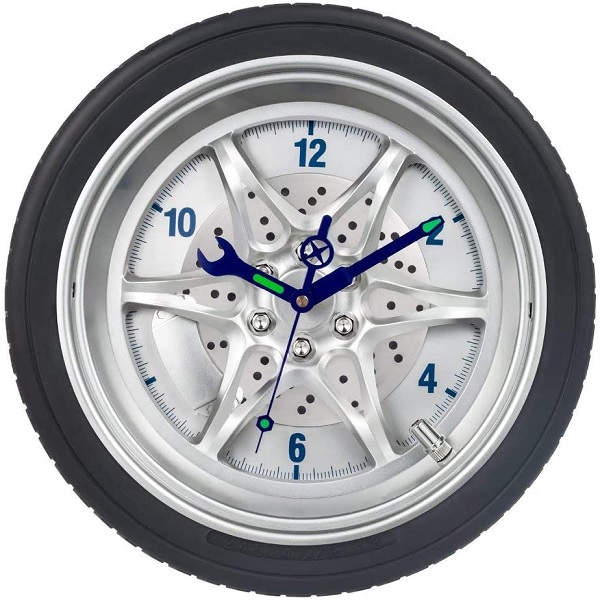 Designed to fit right into the garage design and décor, the top of the list is this garage clock that resembles a car wheel. The 12888 SUN Quartz movement made in Taiwan is fit into the clock, offering silent operation, with the auto-luminous hands ensuring complete visibility even at night.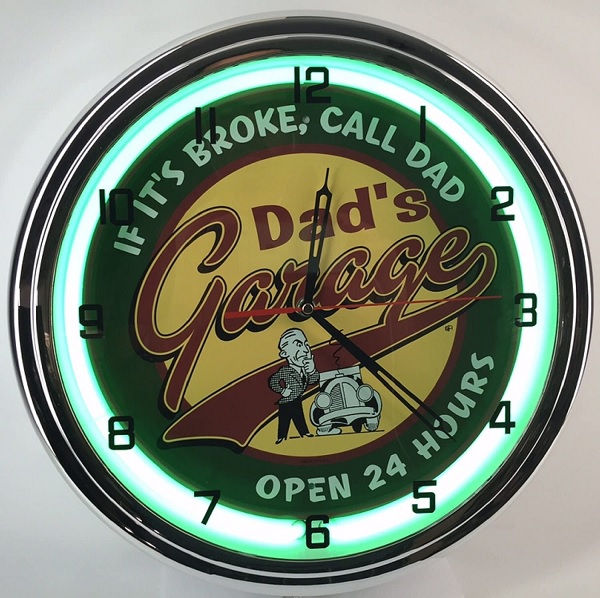 Not just a perfect Father's Day present but a worthy addition to any man cave is the Dad's Garage Open 24 Hours wall clock. There's a neon green light built into the ring which lights up and brings a classic vintage look to the clock, along with a pull lever to turn off the neon ring with a single flick.
Beer Clock for Man Cave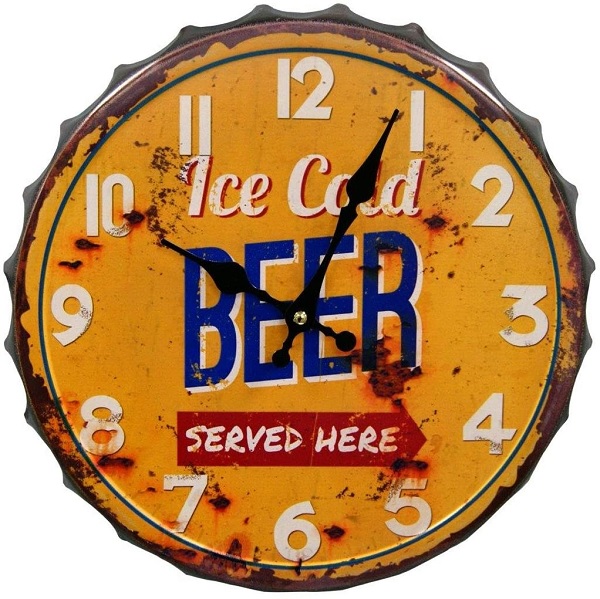 Speaking of the classics, you get a rustic finish to maintain the vintage vibe with this beer wall clock from HDC International. While being made of metal for a durable, yet lightweight design, the clock mechanism is silent with a 14-inch size frame, and the comes with a 1-year warranty.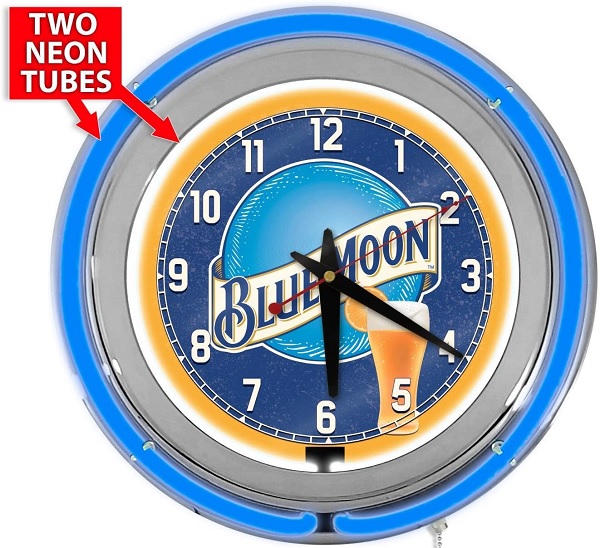 The industrial design of the Blue Moon Beer Wall Clock is built essentially for beer fans, with a double neon ring all around, and a metal chrome rim on which the clock plate rests. The quartz clock mechanism is guaranteed to keep you on time every time, while the hand-blown neon rings are available in blue and yellow color schemes for you to choose from.
Neon Wall Clock for Man Cave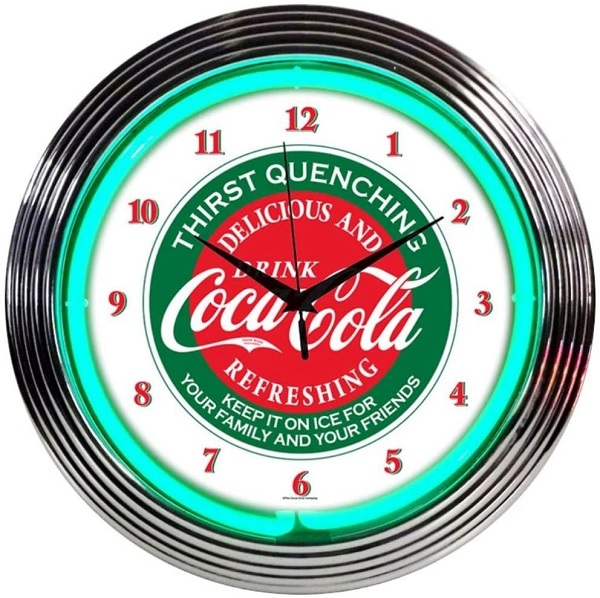 Nothing brings people closer of all ages than a cool refreshing Coke from the fridge, which is why the neon man cave wall clock from Neonetics fits the description perfectly. The circular chrome finish suits perfectly to the vintage Coca Cola clock plate inside, while the green neon ring illuminates it all.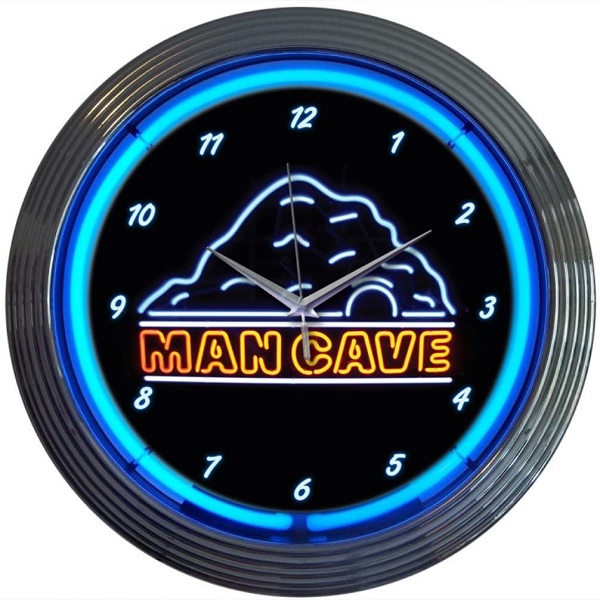 Getting straight to business, this particular wall clock for your man cave tells it like it is, in big bold text that is all lit by a hand-blown blue neon tube all around it. Built with quality in mind to be the centerpiece of your man space, the chrome finish all around is actually resin, making it easy to hang on the wall, with sharp CNC cut hands that add to its beauty.
Men's Wall Clock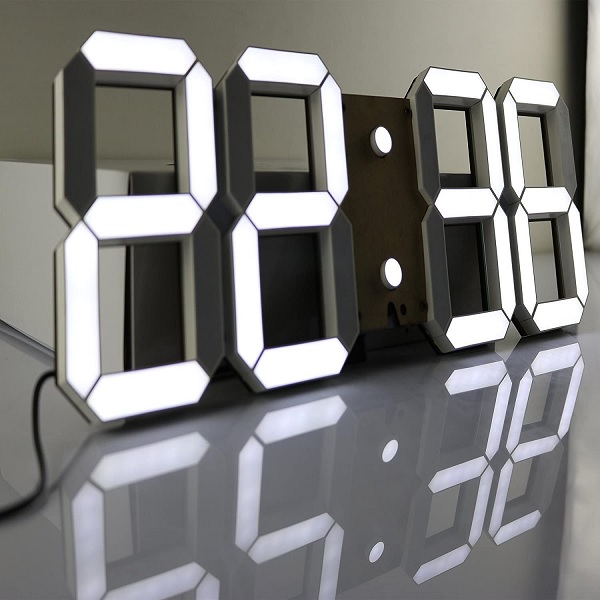 Adding a retro feel to your man cave which is suited for minimalist or even a gaming themed space, the CO-Z LED Digital Wall Clock is available in Black and White color schemes. You can set the brightness level on the clock, and use it as a stopwatch, thermometer, alarm clock, and even a countdown with the remote.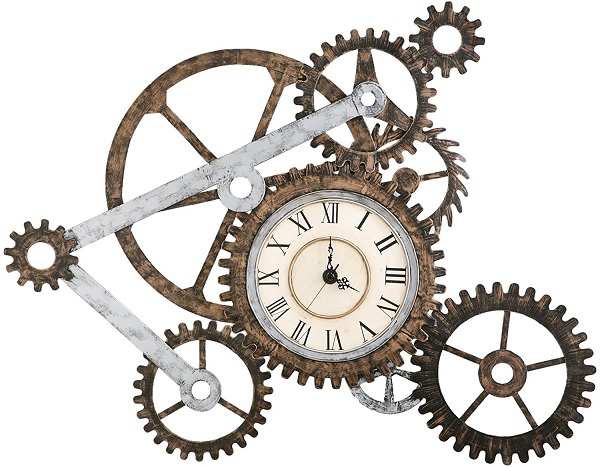 If you're looking to bring some steampunk vibe to your man cave, the Metal Gear Art wall clock from SEI Furniture Store is a great fit. The rustic metallic finish on the stationary gears add a touch class to the environment it is in, and is built to last with industrial-grade design and robust construction.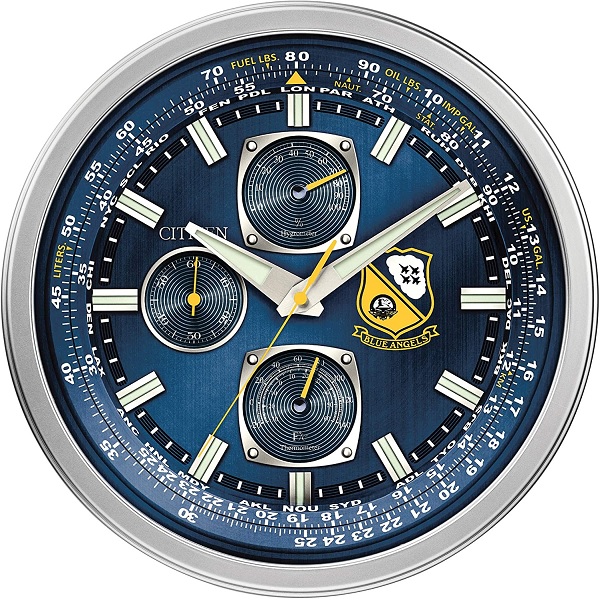 A prominent name in the world of timepieces, Citizen brings the classy aesthetics of a wristwatch to the wall clock with the CC2030 Blue Angels Gallery wall clock. Built with a thermometer and hygrometer right into it, the classic color schemes and premium quality design will bring grace to any man cave it houses.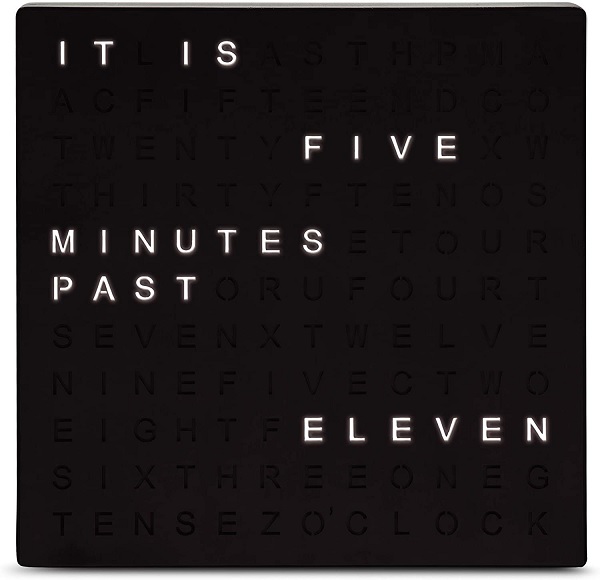 If you're in the market for a wall clock that is minimalist, and yet cool enough to catch the eye of anyone that walks into your man cave, this particular wall clock from Sharper Image is a one to pick. The clock displays words instead of the traditional numbers, is available in Black and Copper finish to grace your man cave, and comes with a simple USB connector to power up right away.
Final Words
When building a private space that grants you a slice of real estate that is truly personal to you, each element in it should reflect your personality and style. Since a wall clock is among the items that are a default in any room, a man cave clock must not only match the décor theme you have established but also be fun to look at. We hope that our collection of man cave clocks will catch your eye and help you find the right fit for your man cave.