Before heading over to buy an air hockey table, you need to know how much room do you require for an air hockey table, or you might get stuck with a table that won't fit in your room.
Air Hockey is an indoor arcade two-player game which can be played by all ages and skill levels. If you have seen an Air Hockey table in an arcade, you have always dreamed of owning one in your man cave. Have the means and place for an Air Hockey table? We are going to help you plan out on setting the table up in your man cave.
Men, take some notes before the thrill of owning an Air Hockey table gets the best of you because it is not a good idea to eyeball room dimensions to fit a piece of furniture; it's the basic rule of home improvement! You must ask yourself "how much room do I need for an Air Hockey Table in my man cave".
Related Posts:
Different Air Hockey Table Options
According to regulations, most arcade Air Hockey tables are 8 feet long, and you will need at least 10 feet of space to set up the table and have ample roaming space around the table. The arcade Air Hockey tables are highly sought after for their powerful air blowers, premium and robust built quality, LED lighting, built-in scoreboard to keep track for who's winning, large pucks and built-in speakers to play your music tracks. But, these arcade bells and whistle features come with a premium price tag, and the table takes up a lot of space. Have a tight budget and room area? Let's look at some affordable variants for your Air Hockey needs.
Basic designed Tables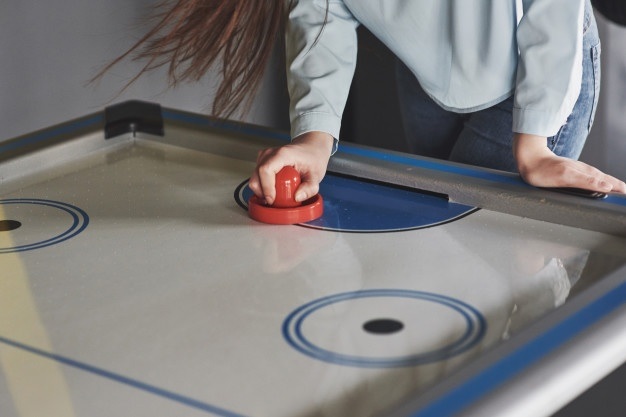 Basic designed Air Hockey tables do not have over the flashy top lights, beep boop sound effects and a giant scoreboard, but they are well built and come in different styles and price ranges. The Basic tables are perfect for teenagers and intermediate players that give an arcade-like experience at your home to blow off some steam.
Table Top Air Hockey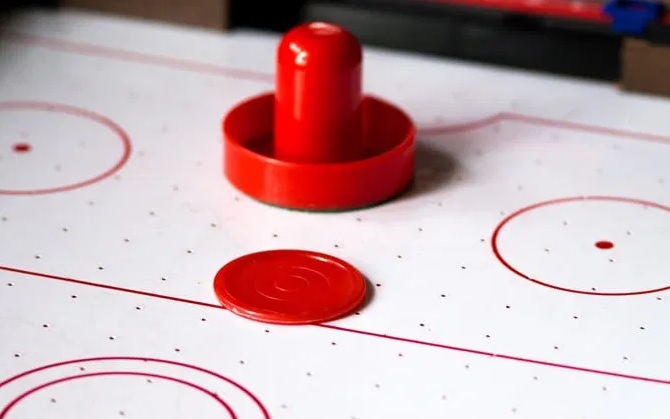 As the name suggests, tabletop Air Hockey tables can be set up on a table and are incredibly portable than the bigger counterparts. Although the affordable price tag and portability, the table versions are meant for children and beginners. Teenagers and adults alike wouldn't enjoy on a small, less powerful air blower table and small pucks because the puck can fly off the rink when power slamming the puck.
Best Air Hockey Options Out There
Now that you know how much room you need for an Air Hockey table in your man cave let's look at some of the best options on the market for your Air hockey needs.
Starting with the list for an affordable yet feature-rich Air Hockey table, the Triumph Fire and Ice table is one of the best options for casual play at any age and skill group. Triumph is known best for their larger 8-foot tables, but the 54-inch Triumph Fire and Ice will provide the best playtime. The fire and ice-themed LED setup for playing in the dark keeps the competitive heat on.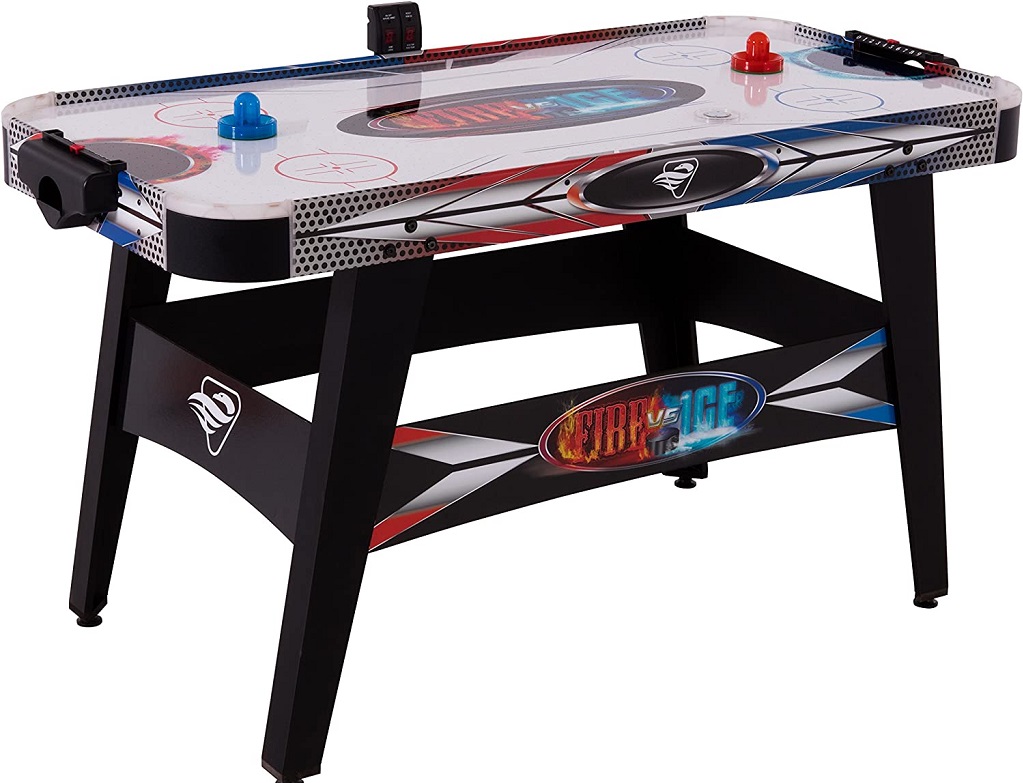 Key Features
Blue and Red LED lights.
White playing surface with ice and fire graphics.
Sturdy built quality for the grittiest of players and height-adjustable legs.
The table has a dimension of 54 x 27 x 31 inches.
The stand weighs in at 39.6 pounds.
For airflow, the table has a 110v motor.
An electronic scoreboard on each ends.
The Hathway Face-Off Air Hockey Table might be the most basic mid-sized table on this list without even LED lights. Still, the Face-Off is a good value proposition for having a basic air hockey setup for casual playing for all family members to enjoy in your man cave. And the compact size won't take up much space in your room for other manly hobbies.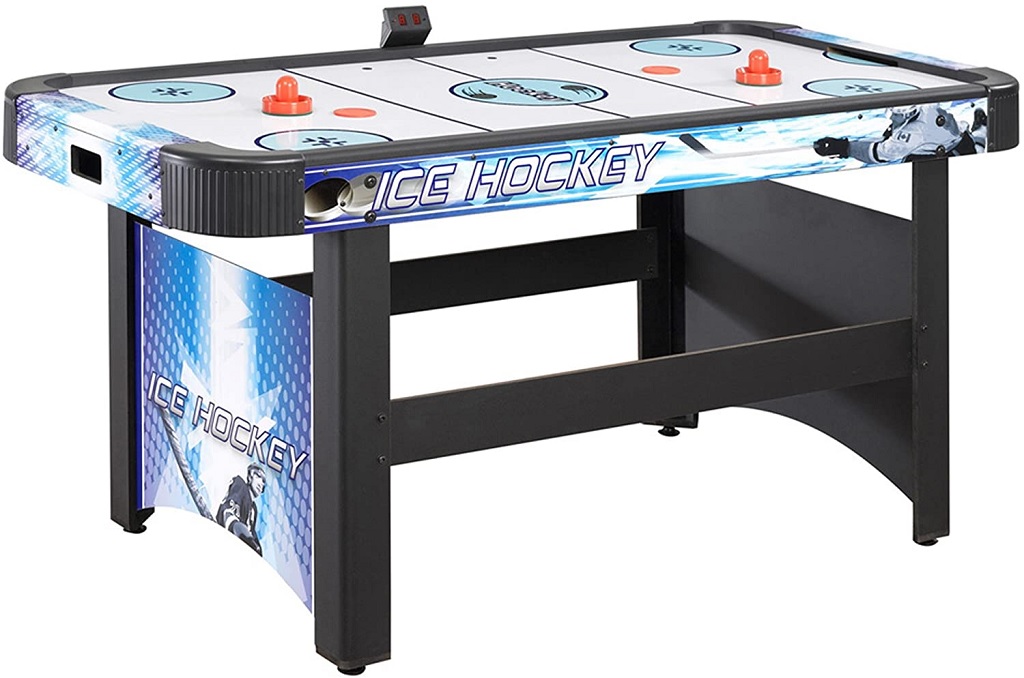 Key Features
White playing board with blue graphics.
The table has dimensions of: 60″L x 30″W x 30.5″H (5 foot table).
Houses in a 110 V UL-approved motor that delivers strong airflow.
The table weighs in at 60 pounds.
Electronic motion scoreboard.
The table comes along with two 3 inch paddles and two 2.5 inch strikers.
Want your kids also to enjoy the competitive thrill of Air Hockey? Rally And Roar are famous for their indoor arcade games, and the Table Top Air Hockey table is one of the best tabletop options out there. Set the table on a table or the ground. Though only for kids, adults too can enjoy by propping the table on the floor.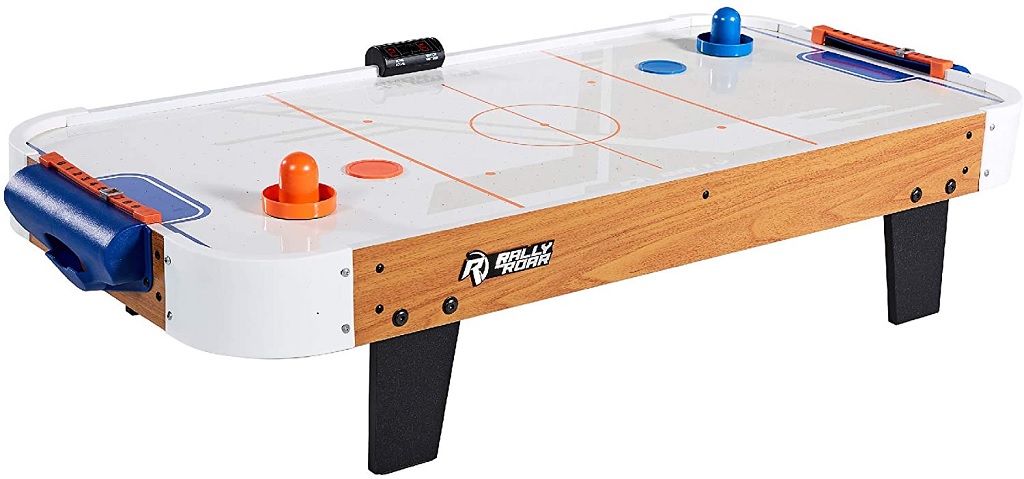 Key Features
Compact size which is easy to store and easy to setup.
The mini table has a 12 V motor that provides steady airflow.
40X20 inch table.
Good built quality made out of composite wood.
White playing board with orange accents.
Padded legs.
The package comes with two strikers and two pucks.
The Atomic Top Shelf 7.5′ Air Hockey table is the most balls to the walls air hockey table for your man cave set up. The Atomic Top Shelf has almost all the bells and whistles as the large arcade tables. The table features a playing board with LED edge lights and comes along with LED paddles and pucks to enjoy playing in complete darkness.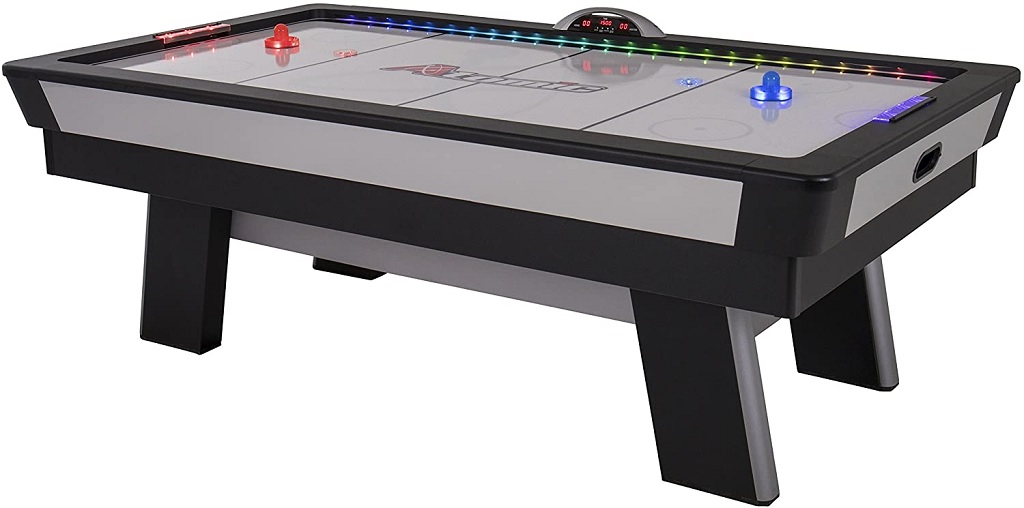 Key Feature
White smooth playing board with simple graphics but what makes it unique, multicolour LED around the playing board.
Excellent built quality and sturdy legs.
The table has a 120 V motor air blower that performs very well under intense games.
In-built speakers.
The whole table setup weighs in at 220 pounds.
The table has a playing surface of 82 x41″ inches.
A Built-in LED scoreboard.
The package includes two LED strikers and two LED pucks.
How To Set Up An Air Hockey Table
You will need to call in some extra hands because there is some assembly required before you can enjoy a game of Air Hockey with your friends who helped you set up the table. Follow our guide to set up your Air Hockey table.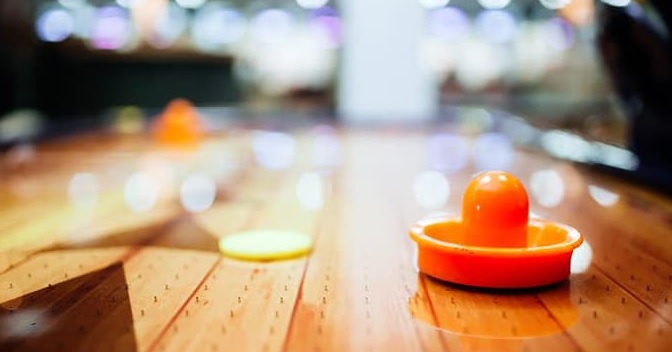 Lay down the table and carefully remove the packaging.
Flip the table to see at the backside.
Most of the hockey tables come preinstalled with the electronic components. You will need to attach the puck goal bins and legs.
Following the instruction manual, first, connect the goal bins underneath the table.
Attach the legs to the table using screws provided to you.
Flip back the table, plug into your wall outlet and enjoy.
Final Words
We hope to have helped you with making sure you have the place to set up an Air Hockey table in your man cave and easying the process of choosing the best table and setting it up. The addition of an Air Hockey will undoubtedly add new memories in your man cave.