The 6 Best Arcade Games for a Man Cave
The gaming industry has evolved over the years, shifting from arcade centers to personal gaming consoles. The 8-Bit Ms Pacman is no match for the high-end games of the PlayStation 5, but those retro gaming cabinets have their own unique charm.
Most Gen Xers spent a fair share of weekends at the arcade center, mashing the buttons and toggling the joystick to grab the highest score the screen. Enjoying just one arcade game on a towering cabinet for a quarter per play, had its own charm, and the nostalgia lives on.
Related Posts:
Although there aren't arcade centers around anymore, the retro-grade arcade game cabinets are making a comeback. Now improved with modern display technology, with even a single cabinet able to run hundreds of all-time classics at once, one of these machines would be a perfect fit for your man cave.
Retrofit the Man Cave with 6 Best Arcade Games
Owning your very own arcade machine was the dream of a lifetime for most of us, but it always seemed a bit farfetched. Thanks to manufacturers who are betting on your love of arcade and gaming, there are entertaining arcade machines that you can bring home to your man cave right now.
Let's be honest, standing upright to smash those arcade buttons for hours isnt comfortable at all. Combing the two best pastimes of a man cave – grabbing a drink and enjoying some good-old gaming fun, the Creative Arcades Cocktail Arcade Machine brings together the best of both worlds.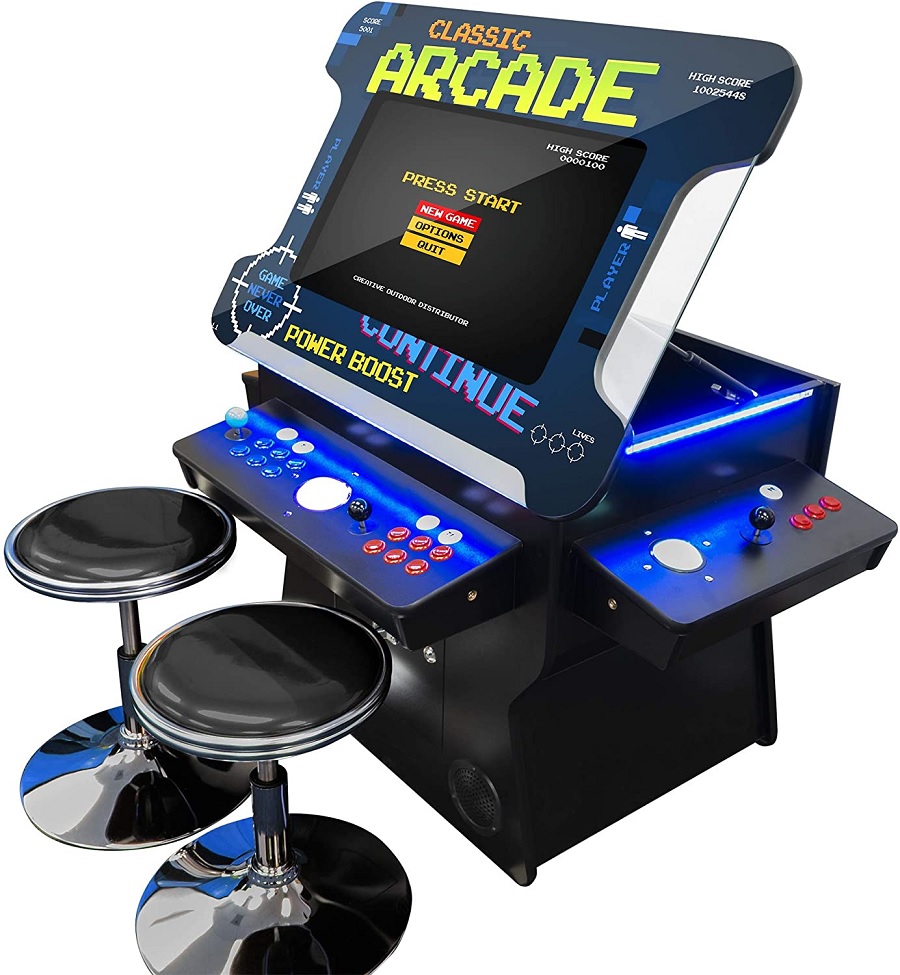 This particular variant includes 1,162 classic games in total (412 vertical and 750 horizontal) including Street Fighter II Turbo, Galaga and a bunch more. The arcade gaming system comes with a 3-year warranty, giving you peace of mind that the lofty purchase you're making is backed by Creative Arcades for years to come.
Prime Arcade in a brand that has come through with a collection of premium options for your man cave home arcade system. Powering a massive selection of classic arcade games that includes Mortal Kombat series, Streets of Rage, Marvel vs. Capcom, 3D Street Fighter, Pac-Man and every other game title that you can think of, all packed into one system.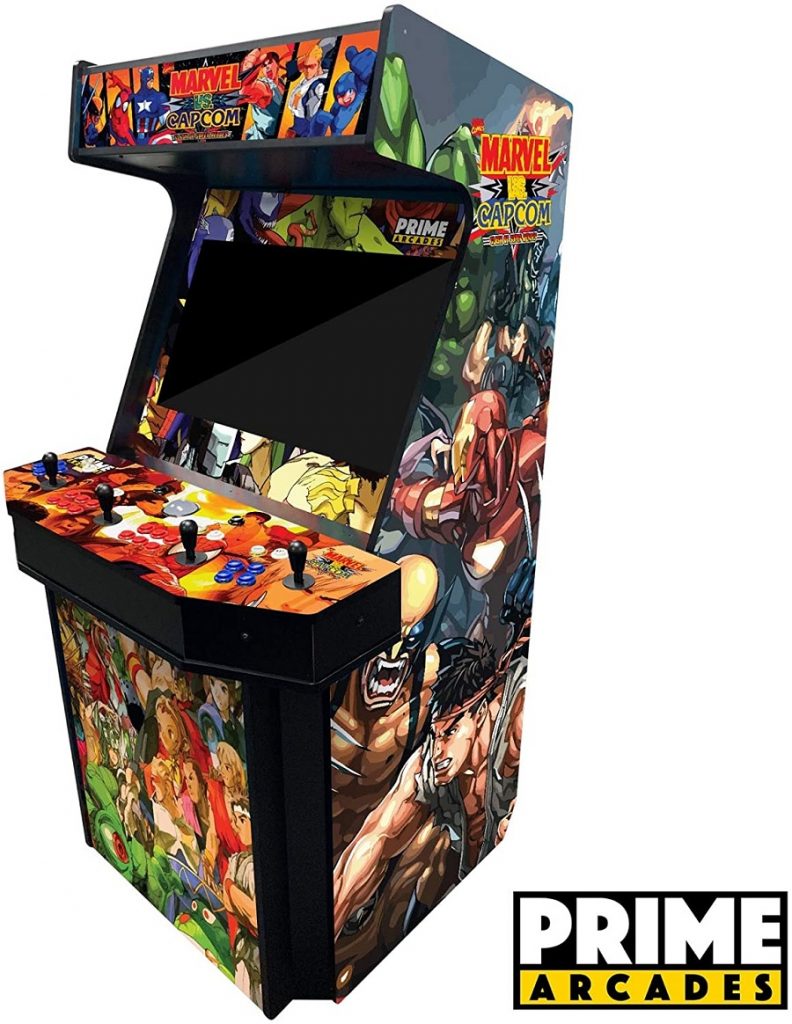 Packing top-notch display screen size of 32 inches, multiplayer support, and superior build quality, leaves no room for any other free-standing machine on the market. The addition of cool artwork all over the upright arcade machine gives it the perfect theme to fit right into your man cave space.
The Creative Arcades Full-Size Cabinet Arcade Machine is essentially the closest thing to bringing the entire arcade home. It's a entirely commercial grade arcade cabinet that features four Sanwa joysticks, paired with a 32-inch screen that is covered in tempered glass for durability.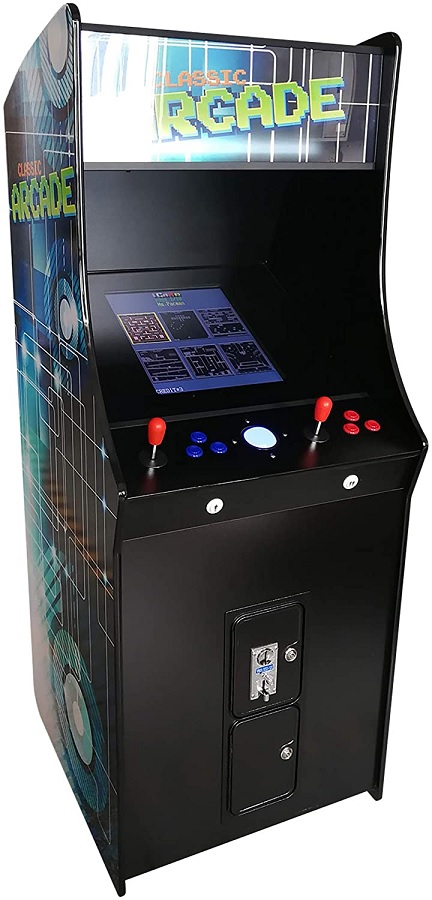 With this retro/modern hybrid console, you not only get plenty of space to play with friends, but also the high-quality controls that will last a lifetime, even after years of vigorous usage. What's more, the system is loaded up with more than 3,500 games, which includes classics such as Mortal Kombat, Moonwalker, and Robotron. This machine also comes with a pair of robust bar stools that complements your man cave.
There couldn't be a better addition to your personal slice of heaven, than the addition of a pinball machine to your man cave. The one we have here is from Stern, with The Beatles Gold Edition, packed with all the bells and whistles – four flippers, ball-catching magnets, skill shots, spinning record disc, and more.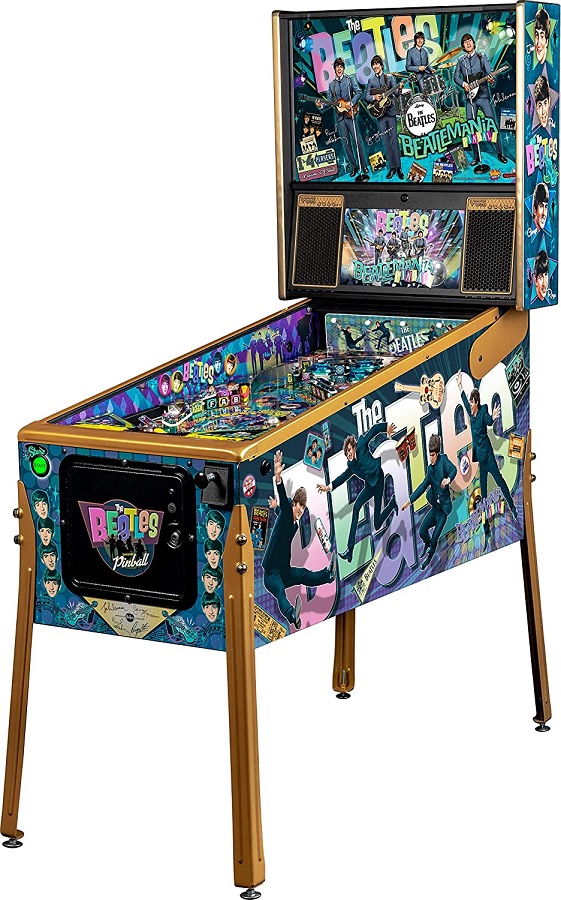 What makes the premium pinball game captivating is the inclusion of animations, and a collection of 9 timeless Beatles songs such as "I Should Have Known Better Taxman, A Hard Day's Night, Can't Buy Me Love, and others. For a music fan who wants the nostalgia of the 1960s in their home, the Stern Pinball arcade machine is just the right fit.
The appeal of having a retro arcade machine in your man cave seems like a great idea, in theory. In truth, the old technology does make these machines rather large and bulky. The series of Arcade1UP Arcade Machines are designed to offer the design and feel of a classic arcade machine, but with a smaller form factor at a fraction of the cost too.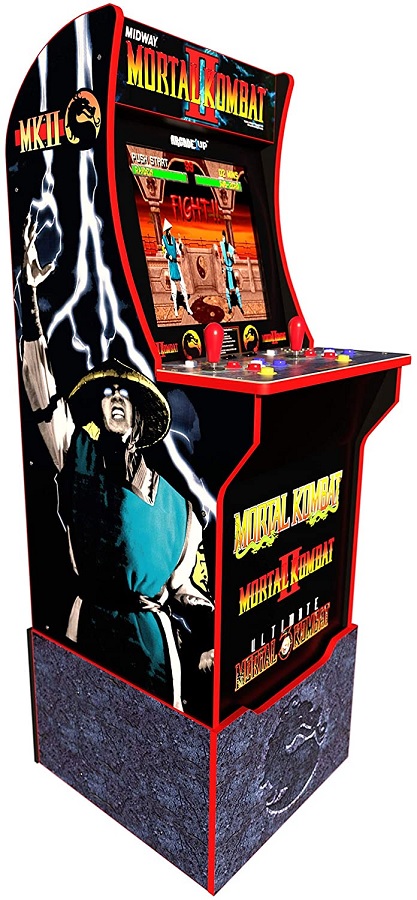 Available with just a single game, just like the classics did, you can get any of the models that stays slim at just 19 inches wide. The cabinet arcade can stand at under 46 inches in height, but a hefty riser that can shelf it up to 61.8 inches. Available in Stars Wars, Teenage Mutant Ninja Turtles, and several other choices, these are the cheapest arcade machines you can buy right now.
While you may want to dedicate a massive area of your house to the man cave of your dreams, you simply might not have the real estate for it. Bringing the retro nostalgia along with affordability and portability, comes the Doc and Pies Arcade Factory, which is designed to be a bar-top or table-top gaming arcade.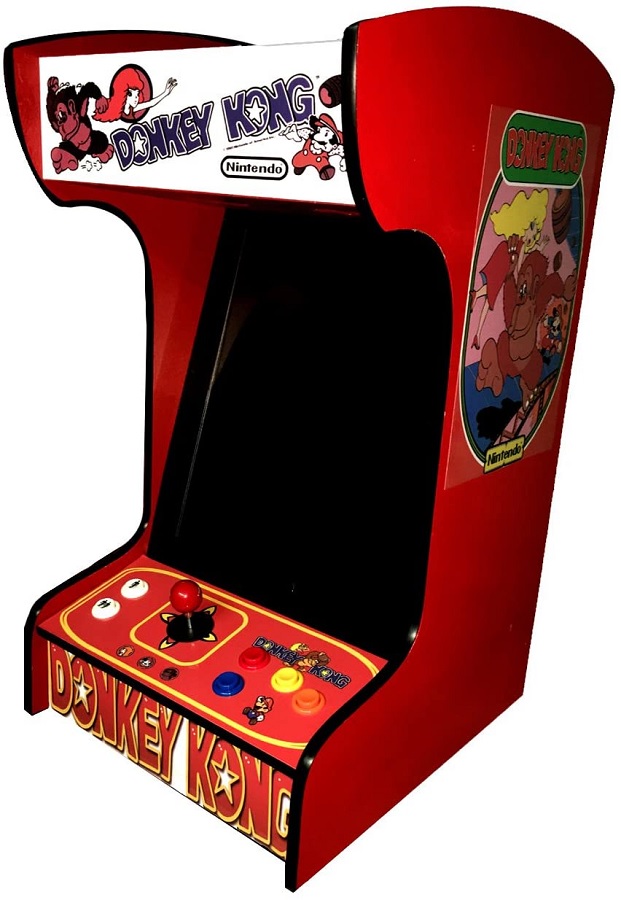 Available in different designs and color schemes, we'd recommend getting the 412 games variant, which covers all of the classics and more. The 19-inch display screen is large enough to enjoy single player games, with the color-coded buttons and joysticks that will take you back to the arcade center from the 1980s.
Wrapping it up
Any of these arcade machines mentioned above, would be a welcome addition your man cave. Providing a splash of nostalgia, these cool and unique devices add to the overall charm of owning your very own comfort zone.
Whether you're planning on sharing the fun with your friends and family, or wish to keep the arcade machine all to yourself, adding one to your man cave is a purchase you won't come to regret over the years.