Unleashing hours of fun in the man cave with a ping pong table at the centre is a fun idea, but how much space for table tennis do you need? Here's a complete guide on the regulation table tennis size and how you could make the best use of space when getting one. We'll get to the bottom of what the ideal ping pong table room size is.
Table tennis has become an all-time popular indoor recreational sport among young folk all around the world. While it may not be the best sport to play for a cardio workout, table tennis, or ping pong as it's known in the States, certainly requires quick reflexes and agility for an enjoyable game. The fact that the game is easy to learn makes it the perfect stress-buster sport to play either during the after-hours at the office, or during a fun night of party with your friends and family over for the weekend.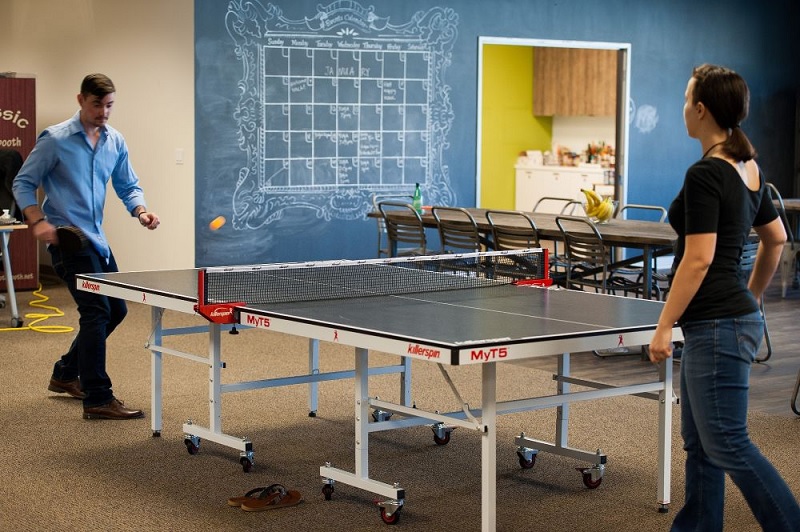 Related Posts
What is the size of table tennis?
When you're putting together the right elements for your man cave, it might be compelling to go all out and get yourself a ping pong table. Without being a physically demanding sport that can be accommodated even within a large enough room, you don't need too much space for table tennis to begin. But before you make an impulse purchase and end up with a piece of indoor sport equipment that is too big for your man cave, it might be in your best interest to consider regulation table tennis size and if your living space is large enough for it.
When considering the regulation table tennis size, you should expect the following dimensions of a ping pong table: 2.74m (8ft 9") length – 1.525m width (5ft) – 0.76m height, based on the numbers from the International Table Tennis Federation(ITTF). You will also require additional space all around the ping pong table during gameplay – the more room you have for maneuvering around the table, the better the gameplay you would enjoy.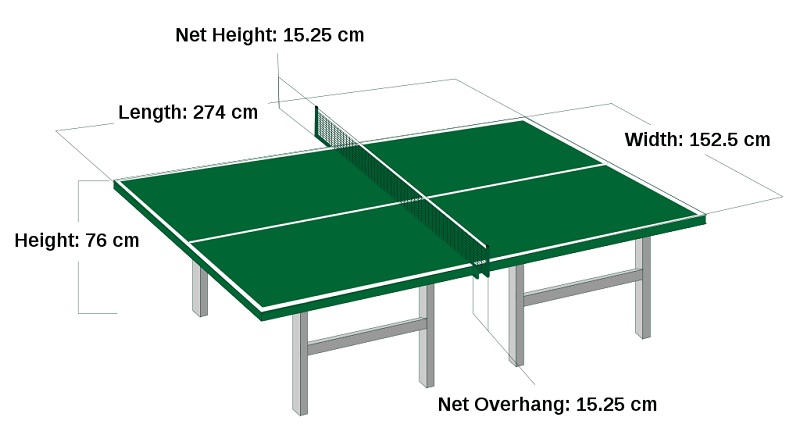 The question you need to be asking is you even need a regulation table tennis size?
Well, not really. If you're only planning to use the ping pong table in your man cave for some lighthearted competitive fun, a mini or small table is far easier to fit inside smaller rooms. However, if you have lofty ambitions for improving your game, then a full-size ping pong table might be a better fit.
How much space for table tennis do you need?
Most players focus more on the space required behind the ping pong table, rather than the space needed all around the whole table. You will need plenty of space to quickly reach and step up to both sides of the ping pong table when hitting diagonal shots.
We suggest leaving plenty of space behind and around the table, rather than lack space. At the same time, this might not be a choice for you if there isn't enough room in the man cave.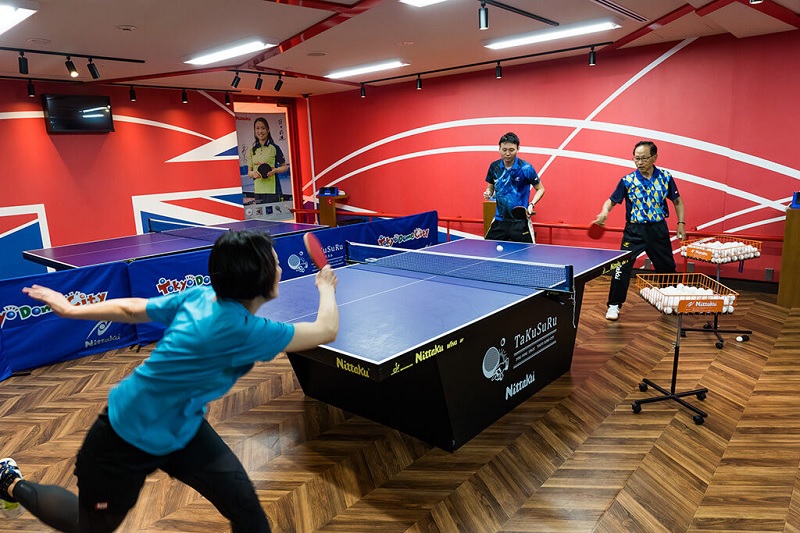 As a rule of thumb, here how much space for table tennis, you should leave out in the living space for safe and enjoyable gameplay:
Recreational players and beginners – The least amount of room for a casual game of ping pong is 17'x11′. Although some compromise can be made on the length (if you don't mind those wonky corner shots) but 11″ width is the minimum for a decent game. Ideally speaking, most players would need a room length of 19″ to avoid feeling too cramped up.
Keen players – Once you start to get better at table tennis and don't want to hone your skills, you'll need more room to execute those advanced shots. A room size of 22'x15′ is the right size to start.
Coaching and semi-pros – If you wish to start taking your game more seriously, a room space of at least 28'x13′ is best suited. Although you will still be able to improve your ping pong skills in a smaller room, it will inevitably limit your practice.
When considering the man cave's width and length while you buy a table tennis table, don't forget the room height. The regular table tennis size is 2.5 feet high, so if it is a low ceiling, the ball might touch the ceiling too often. While most rooms will comfortably accommodate casual games and even practice sessions for experienced t may not allow players to try out lob shots.
Are there different size ping pong tables?
The regulation table tennis size that you can buy for your man cave would measure 2.74m (8ft 9") length – 1.525m width (5ft) – 0.76m height, which would come with approval marking from ITTF. Since most buyers neither have the space for table tennis that matches the regulation standards, nor the need for one, there are plenty of non-standard ping pong table sizes you can find in the market.
Midsized Table Tennis
If your man cave does not have enough room to fit a standard ping pong table – don't sweat it! A midsized ping pong table is the answer for you. Midsized ping pong tables come in an assortment of sizes. There are several different versions of mid-sized ping pong tables that offer better use of space. One such example is the Butterfly Junior, which measures up to 81 inches (205.7 cm) in length and 45 inches (114.3 cm) in width.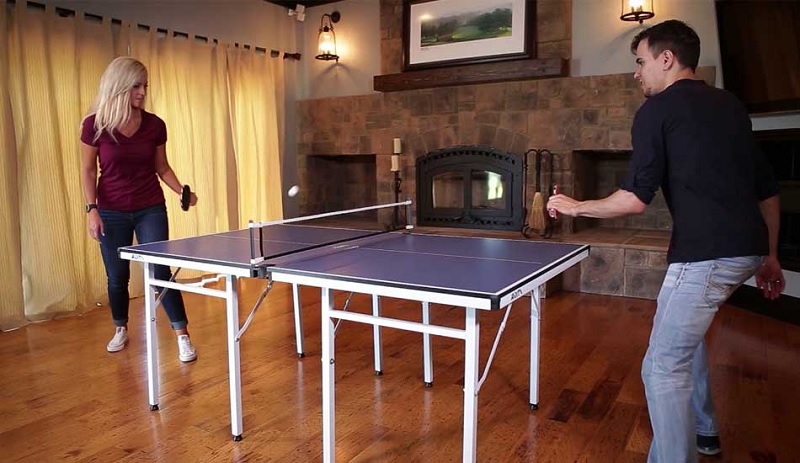 When you choose a midsize ping pong table, it is necessary to be aware that it will impact your game. The play surface of mid-sized tables is quite different from their larger counterparts, which may affect the ball responsiveness and bounce. However, most players get the hang of it over time. You may find yourself overhitting some shots for some time until you adjust to the shorter length of the table.
Mini Table Tennis
Mini ping pong tables are an option to consider if you are restricted due to space in your man cave. Moreover, it is also a good option when introducing small children to the game. Mini ping pong tables can be as small as 23.6 inches (60 cm) in length and 11.8 inches (30 cm) in width. They come equipped with shorter paddles and balls to suit the mini size of the table without any regulations on the type of materials used.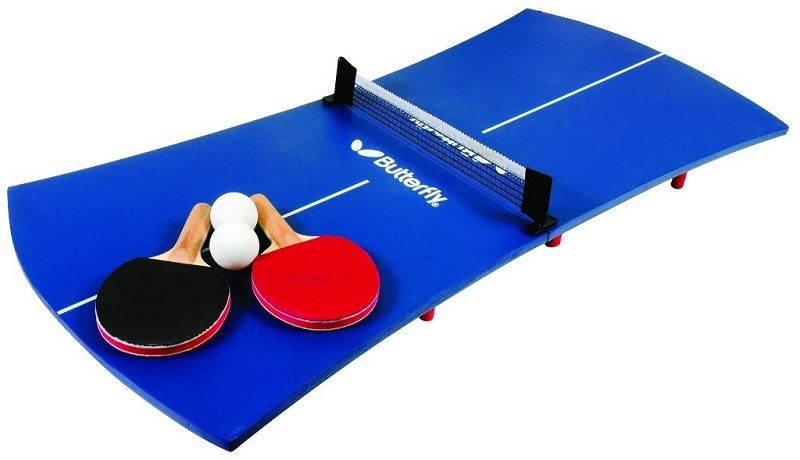 While mini ping pong tables can lead to some truly memorable time, (especially for the little ones), don't expect it to be apt for skill development. The standard of gameplay to expect from a mini ping pong table is subpar, and rallies will last no more than a few shots at most. But when you have very little space for table tennis in your man cave, it could be the perfect recreational element to add.
Conclusion
So, you've been wondering, are there different size ping pong tables? The two main categories, standard and recreational tables are the most common among the masses. While the standard ping pong tables are best suited for competitions and tournaments, the recreational variety includes a wide range of options. When you don't have the space for table tennis based on the regulation size, you'll have to opt for a midsized or portable variant, and there are plenty of offerings online to choose from.